At the very beginning there was passion and love for luxury. There also was a firm belief that beautiful and exclusive lingerie gives a woman elegance, courage and style. It soon turned out that our Clients think the same. Le Vernis products, made of highest quality materials, together with their original, unique design, attract interest in every place that we visit with our collection.
The mission of the Le Vernis brand is to create the perfect lingerie: subtle, yet distinctive and sensual – just like a modern Woman. Since the establishment of the company in 2013 we have been continuously developing, aiming at perfection – and each subsequent model has been a source of delight not only for us.
Le Vernis is an international brand. French designers offer an incredible inspiration, while hosiery, lace and embroidery by prestigious Italian brands guarantee the uncompromising quality. The producers – such as Ricafimicio di Fagnano – belong today to the world's elite.  The combination of such elements results in our lace lingerie – bras, thongs, panties, shorts, slips, garter belts – attracting great interest.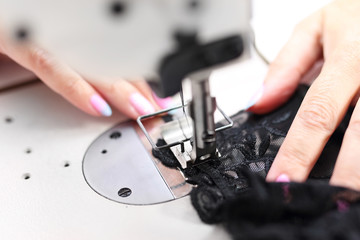 The young and dynamic Le Vernis team is composed of truly passionate people, who put great emphasis on ensuring highest quality in the production and delivery of our collections. Currently we cooperate with a wide range of stores offering high-class lingerie, both within the country and abroad. The number of our satisfied Clients has been continuously growing. We are in constant contact with our Contractors through our Sales Department, serving customers in Poland and beyond. We take care of the smallest detail and put our Clients first – because each Woman wearing Le Vernis lingerie becomes the ambassador of our brand.
Le Vernis – inspired by beauty!